A lot of us know when it's time to visit the emergency room. Shortness of breath, pain in the chest, head or abdomen, high fevers and other sudden symptoms are all times to visit your nearest medical facility or hospital. Yet wounds can sometimes be a different matter. At least once in our lives, we'll cut ourselves, or be with someone who has, and we'll wonder 'Gee? Does this need stitches?" There's a cut in the skin, there's bleeding and a little bit of concern. But, we're not always certain what to do. When do we know it's really time to go to the ER when someone has a wound?  Let's take a look at wounds and figure it out.
What to do with a wound?
'Wound' is the medical term for an injury that breaks the skin. It can be any type of injury – a fall, a cut, an impact blow, or pressure on the skin as a result of disease — but, in general, the definition of a wound is a cut or break in the skin.
The most important part of wound care is keeping the wound clean and the area around it from coming infected. When a wound becomes infected, it's due to bacteria entering broken skin. Without the protective layer of the epidermis, bacteria can quickly find their way into the body, making the risk of developing any type of infection, from skin to the bloodstream, more of an issue.
Dr. Marco Coppola is an Emergency Physician at The Colony ER Hospital and co-author of a wound care paper published in Academic Emergency Medicine. He advises proper cleaning and evaluating the wound carefully. "Step one for any wound is to immediately clean it with warm water and soap.  If there's dirt and debris in your wound, try and gently rinse it away. If something bigger is stuck, like a large piece of glass or metal, DO NOT try and remove it yourself. Seek medical attention immediately and have a physician remove it for you," he explains.
Some wounds, like an animal bite, need special attention. If you've been bitten by an animal, whether it's domesticated or wild, and the skin is broken, seek medical attention immediately. It doesn't matter if it's not bleeding a lot. You should be seen to determine if you need a rabies vaccine.
How can I tell if I need stitches?
You won't always know it's time for stitches just by sight. It often depends on the location of the wound and how deeply it's cut. If you've been applying pressure to the wound with a clean, dry cloth for 15 minutes and it's still bleeding, it's time to seek medical attention. Also, if the cut is longer than one inch in length and you can see yellow, subcutaneous fatty tissue, it's time for a trip to the ER.  Definitely seek immediate medical attention if the wound is the result of a rusty, metal object piercing the skin, an animal bite or high-pressure impact, like a bullet.
If your wound is over a joint, like the elbow or knee, or over a finger, you won't know if you've damaged nerves, tendons or ligament, so, when in doubt, have it checked out. Finally, if the wound is on the face, it's best to get the wound repaired for cosmetic reasons. Stitches, wound adhesive and adhesive strips, when properly applied, help heal more 'neatly.' Like a straight line instead of a jagged edge.
How can you tell if a wound is infected?
Infected wounds don't heal properly. Seek immediate medical attention if the wound is warm to the touch, painful and red. Also, it is most likely infected if the wound oozes pus and has a foul odor. If you experience these symptoms, and feel dizzy or develop a rapid heart rate, it's time to go to the emergency room.
If your wound is infected, the emergency physician will clean and re-dress the wound and a course of antibiotic treatment will likely be necessary.
---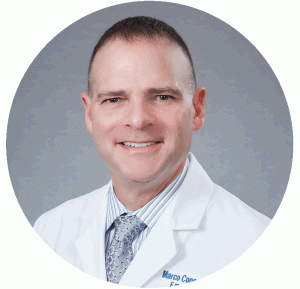 Dr. Coppola has over 30 years of military and emergency medicine experience. He is certified by the American Board of Emergency Medicine and is a Fellow of the American College of Emergency Physicians (ACEP). He is presently Adjunct Clinical Professor of Emergency Medicine at the University of North Texas Health Science Center. Dr. Coppola is a Past Council Speaker of ACEP, a recipient of ACEP's Council Meritorious Service Award (its highest recognition), and is a Past Two-Term President of the Government Services Chapter ACEP. He was a founding partner of Questcare Partners in Dallas, Texas, and has been a program director of three emergency medicine residencies throughout Texas.Colonel Coppola is the Commander of 3rd Battalion of the Texas Medical Brigade, Texas State Guard. He is one of only a handful of Army Emergency Physicians holding the Surgeon General's "A" Proficiency Designator and is a member of the Order of Military Medical Merit. His decorations include the Legion of Merit, the Meritorious Service Medal, six Army Commendation Medals, the Air Force Commendation Medal, the Texas Medal of Merit, and the Texas Lone Star Distinguished Service Medal.
---
Nutex Health, Inc supports you and your family's health. You can depend on The Colony Emergency Room Hospital or any one of our concierge-level, freestanding emergency facilities to deliver the emergency care you deserve, 24 hours a day, 365 days a year.